It's April (almost!), which means that the end of the semester is coming soon, and school is getting ready to kick me in the [part of the body that would hurt when kicked]. But I've still been making uneven progress on several projects. Here's an overview:
Jeans
The jeans look great. I've done everything but finishing the waistband, and I've got my rivets, tack buttons, and belt loops ready to go. But I'm waiting for my new "made by J" sewing labels to arrive so I can sew one onto the waistband facing before topstitching it down. These jeans are an accomplishment for me, and I can't resist tooting my own horn a bit, even if no one else ever sees it. Currently, the post office is holding my labels hostage (don't get me started on the post office!), but I hope to have them in hand by the end of the day today. In the meantime, I've been reading all the posts about rivets on the
Pattern Review jeans sew-along
to educate myself about what lies ahead.
I plan to do a full write-up with better pictures once I get my jeans done, but here are some quick snapshots to tide you over. Sorry for the poor quality--my "resident photographer" had to study for an exam this morning!
Wedding-Guest Dress
Many months ago, I had
this idea
for a dress to wear to a family wedding in May. Since then, I've changed my mind several times, but I've finally decided on this design, which will be more versatile:
The original dress is sold out on
Modcloth
, and the pictures are no longer on the site. I'm planning to make my version very similar to this one, with a few minor adjustments: I've made the curve of the raised waistline more gradual at the center front, and I've increased the overlap of the surplice top so it will be less cleavage-tastical. (Several of the reviews mentioned needing double-sided tape--not the look I'm after for a family wedding!). I'm making it out of navy polyester charmeuse, same as the original. Why mess with a good thing?
I started drafting this dress over the weekend, and I got the front mostly done when I ran out of pattern paper. Look at this skirt pattern! This is me trying desperately to use my last scraps of paper to stabilize my pattern, which was held together only by delicate paper hinges. It looks like Frankenstein's monster!
I scored a little more paper on Monday, hopefully enough to finish the project. But I definitely need to find a more reliable paper supply.
Cotton Print Blouse
Stymied in my attempts to work on my jeans and my dress, I started in on another project in my queue--a cute cotton print blouse. I bought this cotton voile months ago, but now it's finally warm enough to think seriously about spring blouses.
I debated, and finally decided on
BurdaStyle Ute
: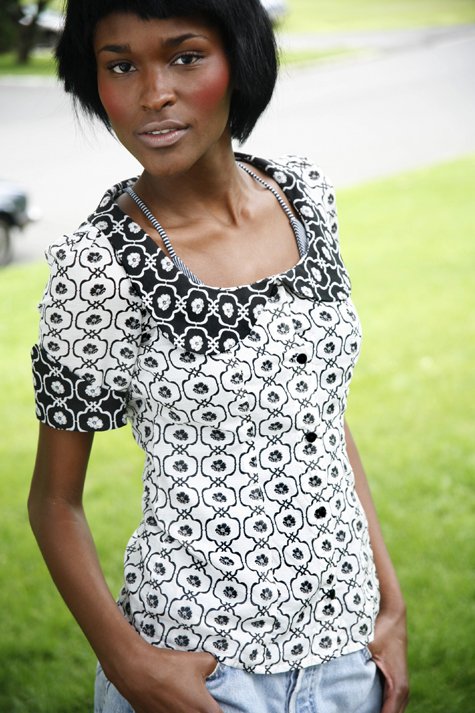 I opted for version A, with the peter pan collar, omitting the crazy cuffs. But I also like B, with the tie collar, and I've got my eyes on it for a subsequent project.
Simple enough, right? Wrong! First of all, my computer pitched a giant fit when I tried to print the pdf file--I've never had this much trouble with a print-at-home pattern before! I had to download Acrobat to make it work.
Now, I know, a sensible person would've done a muslin of a new pattern, even if the measurements for a given size matched her body perfectly. Failing that, a sensible person would have at least basted it together to test fit before sewing time-consuming french seams. Did I do any of these sensible things? Of course not! I forged right ahead. And look at the results:
It's huge! It looks like a house dress! I know the pattern is supposed to be a slightly relaxed fit, but this is
not
what I was after. I think I need to take out all my beautiful french seams, press the pieces, and re-cut them 2 sizes smaller. Some pieces, like the center front and the collar, I'll have to cut again, but I'm planning on fudging the others. I bought another yard of fabric, but I still have to wash it and dry it before I can do anything else.
I'm convinced I can salvage the project, and I still love the concept, but I admit I'm a bit discouraged. I'm planning to set this project aside for a bit and wait for a second wind. It's not like I won't have enough to work on in the meantime!